APONVIE Mechanism of Action
The PONV Receptor Pathways1,2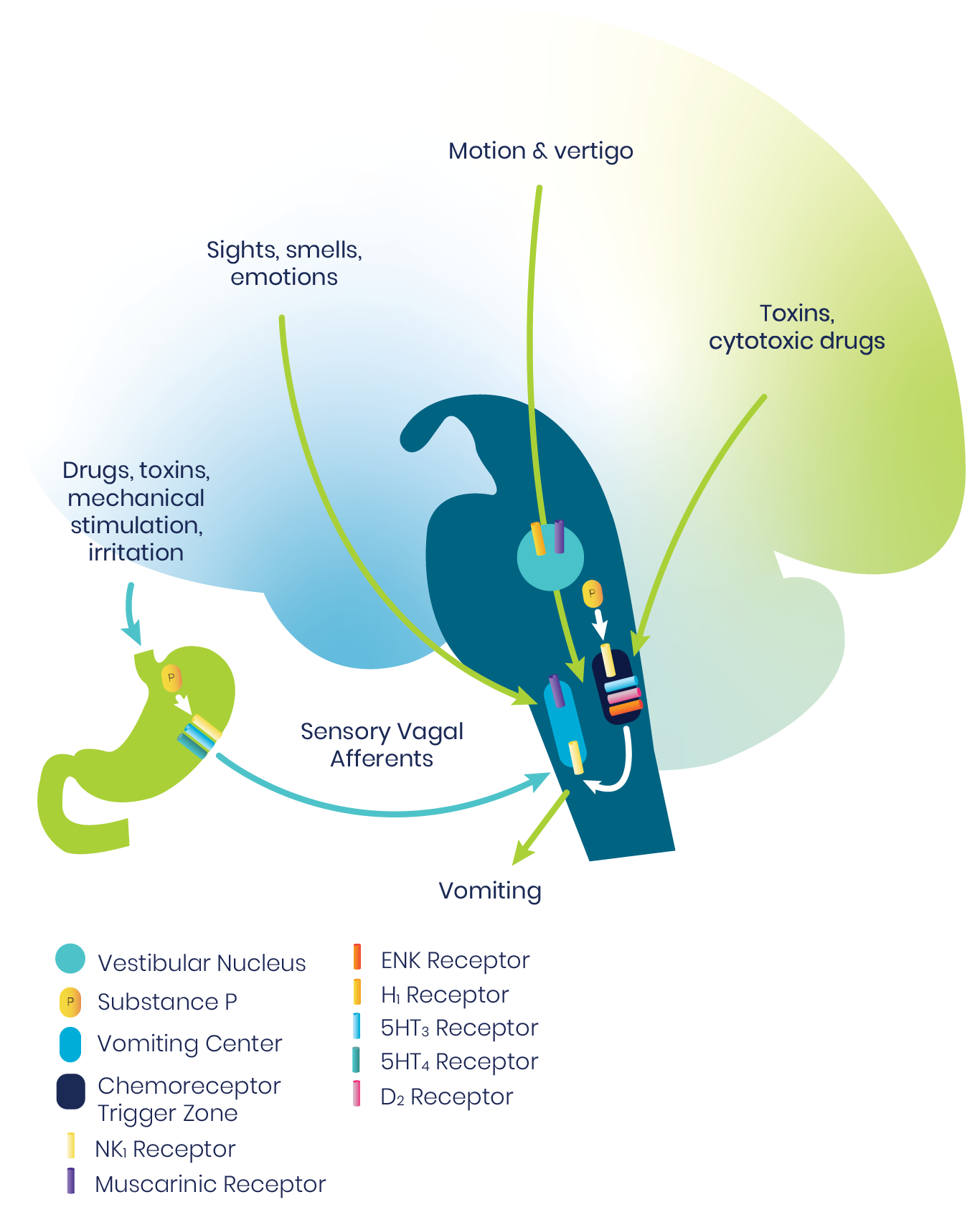 The vomiting center of the brainstem is a central pattern generator that sets off a sequence of activities throughout the medulla to result in vomiting. Multiple inputs may trigger emesis, including sights, smells, and emotions; motion and vertigo; toxins and cytotoxic drugs; and sensory vagal afferents.1
A particularly important afferent is the chemoreceptor trigger zone, which detects emetogenic agents in the blood and cerebrospinal fluid (CSF). The chemoreceptor trigger zone communicates with the adjacent nucleus tractus solitarius (NTS), which in turn projects into the central pattern generator. Signals are mediated through a variety of neurotransmitter receptor systems.1
For prophylaxis and/or treatment of PONV act by blocking one or more of these major receptors: serotonin, (5-HT3), dopamine (D2), histamine (H1), muscarinic cholinergic, and neurokinin (NK1).2
The NK1 receptors are in the final common pathway to vomiting.1,2
APONVIE is an NK1 Antagonist
Substance P is found in areas thought to be involved in the vomiting reflex3
Substance P binds to NK1 receptors, inducing nausea or vomiting4
One study shows that patients who experience PONV are more likely to have elevated levels of substance P4
APONVIE (aprepitant) is an IV neurokinin-1 (NK1) antagonist that crosses the blood-brain barrier and binds to NK1 receptors with high affinity, blocking substance P5

Learn how IV administration allows for ≥97% receptor occupancy to be achieved within 5 minutesa »
aThe relationship between receptor occupancy and efficacy has not been established.
References: 1. Le TP, Gan TJ. Update on the management of postoperative nausea and vomiting and postdischarge nausea and vomiting in ambulatory surgery. Anesthesiol Clin. 2010;28(2):225-249. doi:10.1016/j.anclin.2010.02.003. 2. Gan TJ. Mechanisms underlying postoperative nausea and vomiting and neurotransmitter receptor antagonist-based pharmacotherapy. CNS Drugs. 2007;21(10):813-833. doi:10.2165/00023210-200721100-00003. 3. Gan TJ, Apfel CC, Kovac A, et al. A randomized, double-blind comparison of the NK1 antagonist, aprepitant, versus ondansetron for the prevention of postoperative nausea and vomiting. Anesth Analg. 2007;104(5):1082-1089. doi:10.1213/01.ane.0000263277.35140.a3. 4. Kadota T, Kakuta N, Horikawa YT, et al. Plasma substance P concentrations in patients undergoing general anesthesia: an objective marker associated with postoperative nausea and vomiting. JA Clin Rep. 2016;2(1):9. doi:10.1186/s40981-016-0034-9. 5. APONVIE [package insert]. San Diego, CA: Heron Therapeutics Inc; 2022.
Important Safety Information
Contraindications
APONVIE is contraindicated in patients with a history of hypersensitivity to aprepitant or any component of the product, and in patients taking pimozide. Increased pimozide levels may cause serious or life-threatening reactions, such as QT prolongation.
Warnings and Precautions
Hypersensitivity Reactions: Serious hypersensitivity reactions, including anaphylaxis, during or soon after administration of aprepitant have occurred. Symptoms including dyspnea, eye swelling, flushing, pruritus, and wheezing have been reported. Monitor patients during and after administration. If hypersensitivity reactions occur, administer appropriate medical therapy. Do not administer APONVIE in patients who experienced these symptoms with previous use of aprepitant.
Clinically Significant CYP3A4 Drug Interactions: Aprepitant is a substrate, weak-to-moderate (dose-dependent) inhibitor, and an inducer of CYP3A4. Use of pimozide, a CYP3A4 substrate, with APONVIE is contraindicated. Use of APONVIE with strong CYP3A4 inhibitors (eg, ketoconazole) may increase plasma concentrations of aprepitant and result in an increased risk of adverse reactions related to APONVIE. Use of APONVIE with strong CYP3A4 inducers (eg, rifampin) may result in a reduction in aprepitant plasma concentrations and decreased efficacy of APONVIE.
Decrease in INR with Concomitant Warfarin: Use of aprepitant with warfarin, a CYP2C9 substrate, may result in a clinically significant decrease in the International Normalized Ratio (INR) of prothrombin time. Monitor the INR in patients on chronic warfarin therapy in the 2-week period particularly at 7 to 10 days, following administration of APONVIE.
Risk of Reduced Efficacy of Hormonal Contraceptives: The efficacy of hormonal contraceptives may be reduced for 28 days following administration of APONVIE. Advise patients to use effective alternative or back-up methods of non-hormonal contraception for 1 month following administration of APONVIE.
Use in Specific Populations
Avoid use of APONVIE in pregnant women as alcohol is an inactive ingredient in APONVIE. There is no safe level of alcohol exposure in pregnancy.
Adverse Reactions
Most common adverse reactions (incidence ≥3%) for APONVIE are constipation, fatigue, and headache and for oral aprepitant are constipation and hypotension.
Report side effects to Heron at 1-844-437-6611 or to the FDA at 1-800-FDA-1088 or www.fda.gov/medwatch.
Indication
APONVIE is a substance P/neurokinin-1 (NK1) receptor antagonist, indicated for the prevention of postoperative nausea and vomiting (PONV) in adults.
Limitations of Use: APONVIE has not been studied for treatment of established nausea and vomiting.
Please see full Prescribing Information.
Connect with Heron
How could you incorporate APONVIE as the foundation of your institution's PONV management strategy? Connect with us to find out.
Fields marked with an asterisk (*) are required.